It is true that I always say prep and prime before applying your makeup, but I've kinda stopped using primer a while ago thanks to my pores. I have few oil free and pore concealing primers in my drawers and been trying and using them (not all at once) regularly everytime before I apply BB cream/foundation. For someone with combination oily skin and tons of humongous pores, primer has been a big part of my makeup routine. However, I also notice that many (if not all) of my oil free & pore filling and concealing primers actually make my nose and cheeks (the areas with visible pores) look patchy and weird once BB cream/foundation is applied and settled. No matter how helpful primer is to make my makeup last longer and help to mattify my face, it's just not worth it when the primer makes my makeup look uneven and not flawless. My other gripe with primers is it's hard to find primers that don't break me out. So I literally dropped primers from my makeup routine....
....Until I tried Laneige Water Supreme Primer Base. I got this from my friend Fio on my birthday last month. I know this product has been released for a while and I never really had any intention to try it cause Laneige is on the pricier side and I had my ultimate oil free primers that I trusted for my face already. But since it's a gift, I was both excited and curious if this product worth the price. Laneige released 3 different colors of this Water Supreme Primer Base. There are light pink, light purple, and light green. Mine is light green. The light green shade is said to correct redness (which I have a lot). While light pink is to give healthy glow and rosy finish, and light purple is to correct yellow skin. From what I know all three do brighten skin too. Light green definitely brightens up my complexion aside of lightens my redness and gives some moisture, which is a plus. But now let's see how this product really works and why I love it.
LANEIGE WATER SUPREME PRIMER BASE SPF 15 PA+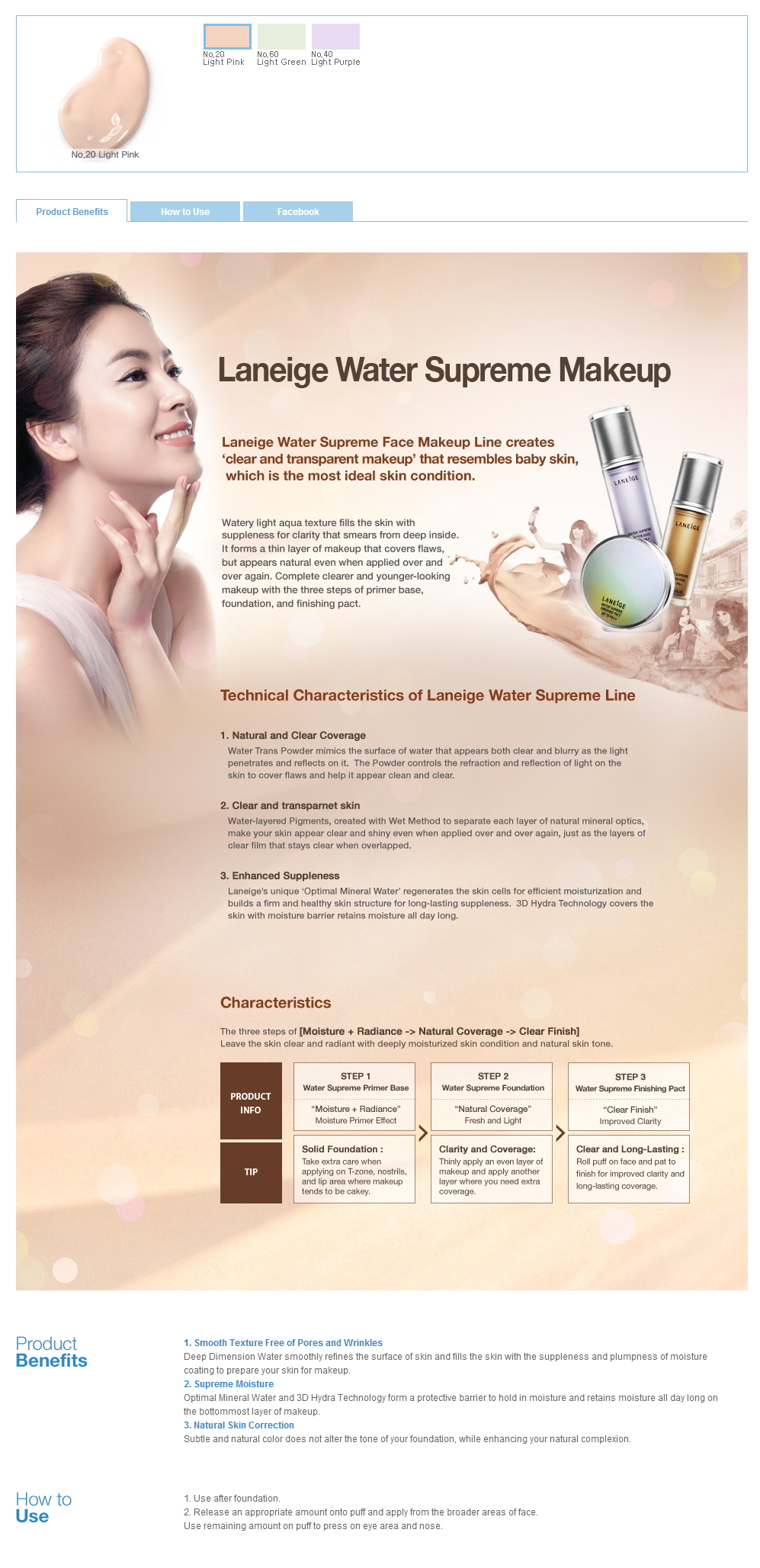 source: jolse
Look at Her Fabulousness, Song Hye Gyo. Her skin looks so radiant and flawless. But then again she always looks so flawless on all her ads wearing any Laneige products. The promotional picture says the right order is Water Supreme Primer Base > Water Supreme Foundation > Water Supreme Primer Pact. But this primer works as base even with other foundation and powder, so it doesn't really matter which one it is cause this primer is the best base I ever tried so far.




It's a 35ml bottle of product. The packaging is very nice, it's sleek and smooth but simple ala Laneige. I love how it's semi transparent so I can see how much product is left. There's not much to tell about the packaging cause it's just a simple one. There's not much information written on the container as well, except for the SPF 15.
It comes with pump dispenser :D The pump is really nice and dispense smoothly without any product wastage.
I tried and tested it on the back of my hand first. It's like a green watery liquid. It's also mint green, my favorite shade of green (nobody asked lol). It's very liquidy but not to the point of being too runny or hard to blend. It feels watery but it stays on the skin just alright. Once spread, it turns less liquidy but still watery (if that makes sense) and can be blended easily on skin. The color turns more white ish too when spread. But once blended and settled on skin, it brightens skin and also appears dewy. I guess the dewy finish is more visible on the face.
As usual, my redness and full of scars face. It looks very dull and uneven skintone. This primer has very light coverage which able to lightens redness, almost 80% of redness is gone after application. It also brightens my skintone and makes it appear more even. While it does conceal and smooth some pores, it doesn't fill and completely make pores disappear. It lives up to its water supreme hype. It is water based so this primer always make me feel so moisturized and not heavy at all. It's also easily absorbed. It has fresh mild scent.
But what I love the most about this primer base is the finish. My pores are still visible but it looks more smooth and I don't see any patchiness. Once my foundation is settled, it doesn't make my nose looks like it's filled with white dots (aka filled/blocked pores). In fact, the foundation glides on my face very smoothly thanks to the primer.
As for oil control, I don't notice big difference with my oily nose. I mean, this primer isn't meant to control oil (and I normally use oil free foundation) but my nose doesn't seem to be oilier, which is nice. Now I use this primer everyday, I guess it's been a month and a little goes a long way! I normally use 1-2 pumps for my whole face.
PROS
- Translucent and glowy finish
- Lightweight and quick to absorb
- Lighten redness and some imperfections
- Brighten skin
- Nice scent
- A little goes a long way
- Easy to blend in
- Help makeup to last longer
- Doesn't break me out
- For all skin types
CONS
- Pricey
- Doesn't do much for dark circles
OVERALL
❤
❤
❤
❤
❤
My everyday's primer base before any foundation or cushion. The finish is really lovely and it corrects almost all my redness and help cover some of my imperfections. It feels really nice and moisturizing. Not drying at all. The price is the only downside, but almost all Laneige products are on the pricier side but this product really works and I will repurchase once I run out.
WHERE TO BUY
Cosmetic Love
$43.45
Korea Depart
$40.78
Jolse
$41 (free shipping)
RECOMMENDED FOR
- People with redness and blemishes
- People who wants brighter skin