It's been a while since I shared my last lipstick review. But this time I'm back with another tint lipstick to share with you. It's called Tint Bar Triple Shot in triple peach by VDL. I've heard and seen VDL foundation around last year on some online makeup store but I had no idea that it was a Korean brand. VDL stands for Violet Dream Luminous. I can't find much information on their official website but they have really nice colorful makeup collection. Their lipsticks looks so nice! Definitely on my wishlist just now. According to the little english on the website, VDL is a unique cosmetic brand dedicated to women who actively seek out and realize their dreams and desires.
This triple shot tint bar is one of VDL's hit items. It's a triple colored lip tint that creates petal bitten gradient effect with a single touch. This stick tint offers 3 colors, main color, sub color and base color. The tint has 3 functions as a tint, lip balm and lip base. The result on the lips depends on how you apply and use the tint stick. It can help achieve gradient look or blended colors on the lips. I prefer blended colors because this particular shade that I got give a very pretty nudy peach color that I like. Keep reading to see more about this amazing lippie!
Even the box packaging is so pretty with the gradient hologram. There's some english description on the back of the packaging. Also, an instruction guide is included inside the box.
The tint packaging is rather transparent and simple with the VDL logo engraved on the metal. Expiration date is printed on the bottom part of the tint. The shade I got is no 601 Triple Peach.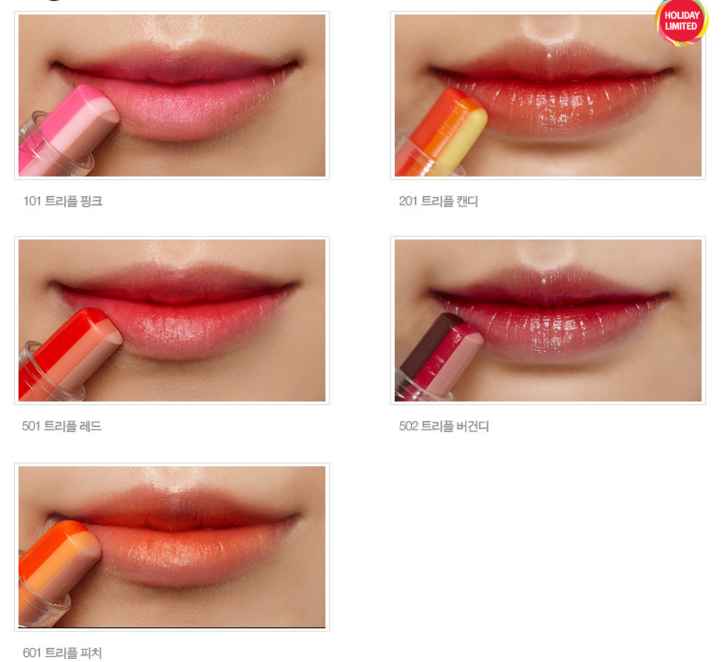 They have 5 colors available: Triple Pink, Triple Candy, Triple Red, Triple Burgundy and Triple Peach.
Isn't it yummy looking? The tint stick reminds me of a candy somehow lol. It has 3 colors, hence the triple shot name. The first time I got it, I wondered how these colors would work on my lips. I mean, orange, yellow, and beige? I was terrified imagining how it would be on my pigmented lips.
But apparently I have nothing to worry about as you can see on the swatch. It's pretty sheer and a bit too sheer for my taste actually. But with double and triple strokes, the color looks beautiful between coral and orange.
I have very pigmented lips, so lip concealer is always necessary in order to show the lippie's real color. I didn't use fancy technique applying this on my lips and just rotate the tint stick to get this blended color look. I know my lips look ultra dry on this one, please ignore lol. I love the base color of the tint bar though, it's nude beige and it's quite pigmented. I can also create gradient look with this tint bar, but I'm kinda over gradient look lately so I stick with this pretty coral finish.
PROS
- Affordable
- Travel friendly
- Moisturizing
- Not creamy and thick
- Can create different look depends on how it's applied
CONS
- Sheer, not for people who wants opaque lippies
OVERALL
❤
❤
❤
❤
❤
It's a tint stick with 3 colors that works great individually and as gradient colors, as well as the normal hold and swipe application which will blend all 3 colors into nude coral. It is moisturizing and not drying my lips. It's a tint so it's not meant to look opaque and thick like lipsticks. It's more on the sheer side but it is buildable. Normally 3 strokes give a very pretty peach color on my lips. Verdict? I love love love this tint bar and lately I've been wearing it to work. The color is almost nude and very natural, perfect for work or school.
WHERE TO BUY
*Stylekorean is a Korea based online shopping mall who carries food, cosmetics and fashion products and they offer worldwide shipping.
That's all for today's review. Thank you for reading and hope it's helpful. Next post will be Halloween makeup post~!
Disclaimer: The product mentioned above was sent to me for review purposes, however all thoughts and opinions expressed are honest and entirely my own. I do not get compensated to write this review.